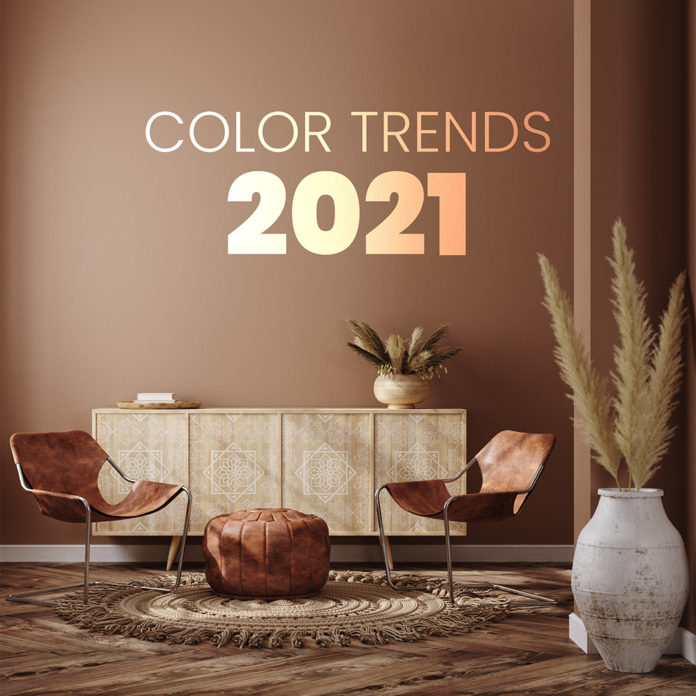 What's the Perfect Color For Your Bedroom?
Getting the right color for your bedroom walls can always be challenging. From millions of options out there, it's hard to pick the best one. Let's narrow down your options according to the latest interior design trends!
After a stressful day at work what you look forward at your bedroom is peace, tranquility, relaxation and the color of your bedroom too should align with this mood. Colors also play an important role in determining what furniture to choose and how to mold the ideas for creating a flawless bedroom.
As colors have an impact on your thoughts, energy levels, actions, behavior, and every other color further has a different effect on your emotions as warm colors generally evoke happiness and energy whilst cool colors are more soothing and calm. Neutral tones are also pacifying.
Here are some of the trending color schemes that you can choose for your ideal bedroom.
The Bedroom Color Trends of 2021 
The latest color trends for bedrooms focus on comforting colors like natural and earthy tones, which are welcoming and provides serenity. Let us take a look at the most popular bedroom colors of 2021.
Natural Blue
This timeless shade of blue is a soothing color that helps reduce stress and anxiety. Natural blue, a salient and strong shade of blue, not only helps calm your mind, but is also effective in reducing heart rate and blood pressure.
Natural blue when paired with a range of neutrals among both the beige and the grey tones or along with mint and green tones can create wonders. It looks calming along with any natural modern colored furniture and looks elegant when accessorized with accent décor in brushed gold or with minimalistic, modern furniture laminated in subtle white combined with bohemian decor, which helps create a personalized feel. Chic boho décor comes in various colors, patterns and elements.
A farmhouse look too can be achieved in the backdrop of a blue wall when complemented with contemporary classic furniture and antique finished décor.
Impression
Impression is a shade of brown with a golden tone which is referred as one of the defining colors of the year 2021, when teamed with pale tones of blue form exciting color palettes for room décor. It is a relaxing color which is suitable for the bedroom walls as it is linked with comfortable sleep and provides a sense of warmth and connection to the earth.
To create the most comfortable and aesthetic look for your bedroom, add some woodgrain furniture which creates contrasting textures along with the single-colored wall. Furniture which has a rustic or matte appearance blends perfectly with this brown shade to create a homestead look for your bedroom. Linen furniture too can be used to lighten the things up in a bedroom with walls of impression shade. Dry flowers in textured ceramic vases (along with oversized paintings or wall décor adds depth to the room.
Olive Green & Eucalyptus Green
Olive green is a dark-yellowish color that helps create an environment-friendly and cool personal space. Olive green along with other shades of green which includes a masculine grey-green, a smart deep green, mid-aged green, and a traditional sage green helps create a very aesthetic color palette suitable for bedroom design. Along with this natural wall color, a collection of earthy plants along with a botanical curtain will give our room a comforting feel.
Eucalyptus Green is a rich shade of green and blue, which is considered to be rejuvenating and represents hope and joy of life. With its soothing effect, it is considered as one of the most pleasing colors for bedroom design. Eucalyptus green is a color trend of 2021-22 for interior design, especially for bedroom walls with its refreshing effect, makes it an obvious choice for the millennials and enhances lighter tone furniture like oak, maple with subtle patterns of jacquards.
Desert Pink
Desert Pink, a beautiful golden pink tone not only brightens your bedroom but also freshens up your mood and when combined with dark tones helps create a cool contrast color palette for interiors. Alongside pale neutrals, this shade of pink is cheery, playful, creates an engaging pattern suitable for bedroom design, and reflects unconditional love and care.
Desert Pink can be paired with neutral hues in furniture and other accessories to set up a modern-style bedroom. Flooring and table lamps of polished gold along with chandeliers and mid-century styled furniture in mid-tones of walnut or dark oak with enhanced industrial accents is icing on the cake.
These are some of the color trends that are most popular for bedroom design ideas this year. Pick the right color depending on the theme that you desire for your dream bedroom.