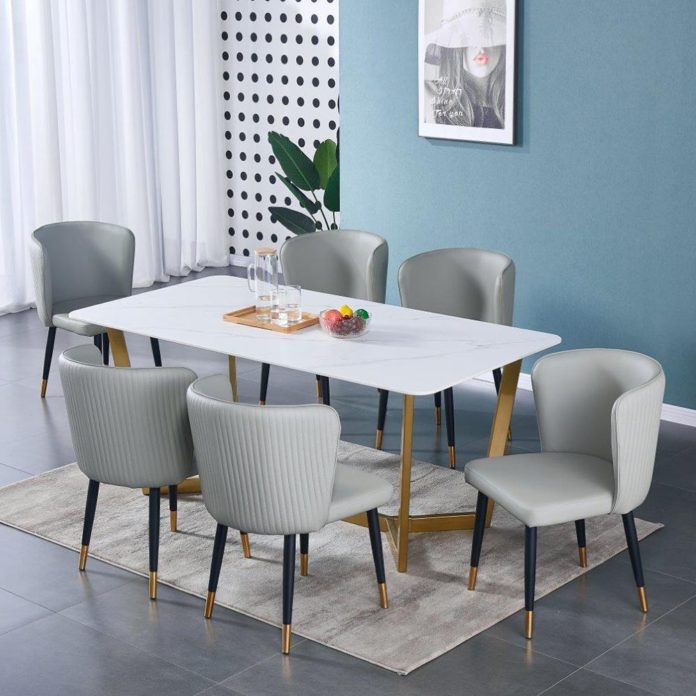 Selecting your perfect dining table can be a hefty task. It is one of the most important elements in setting up your personal space which needs to be timeless and elegant yet comfortable and welcoming. Nothing can go wrong with the common spot at home where the family spends time together and creates memories of a lifetime.
There are different types of dining tables that are available which differ in terms of material, price, functionality, and many other features. Ceramic and marble are the most famous variety of tabletop materials.
Let's narrow down the differences between a ceramic and marble tabletop so that anyone who's purchasing a dining table can make a perfect choice.
Ceramic, an artificially created material with clay and various inorganic components helps in giving it a natural stone finish.
Features of Ceramic Dining Tables
It is a strong and solid material which is an excellent option as a material for a dining table.
The ceramic table top is highly durable and resistant to stains, scratches, spills, extreme heat or fire and the weather, as the top of ceramic dining tables are sealed while they are manufactured, hence you can stay relaxed and carefree.
It is the perfect alternative to natural marble as it's affordable and effective.
Ceramic tables can easily be shifted from one location at your home to another because of their lightweight and are highly convenient.
Design considerations related to the ceramic tables include determining the thickness of the table. They can be designed very thin or thick as per the requirements.
As ceramic is a natural derivative the light intensity gets less refracted which helps in enhancing the moody lighting.
Marble on the other hand is naturally extracted from the mountains. It exists in a wide variety of colors and is one of the eco-friendliest materials.
Features of Marble Dining Tables
Marble is a sedimentary form of rock that is found in nature, which has been through pressure and temperature due to which it has a unique texture of layers.
The uniqueness and beauty of a marble dining table cannot be replaced by another material.
Marble is made of natural stones and comes in variations. Some of the types of marble from around the world include:
White Marble- It is preferred at homes and in business setups for its clean and natural finish. Its gorgeous and stunning appearance makes it apt for kitchen applications too.
Black Marble- It offers a modern aesthetic that is desired by many homeowners in the recent times. With golden or silver veins running across, black marble can be the perfect type of marble for your elegant dining table.
Grey Marble- Grey Marble provides a sense of style and sophistication to your dining experience.
Red Marble- This type of marble gives a different visual effect from the others mentioned above. This bold color makes your dining table stand out from the rest of the furniture and other home accessories.
The other variety of marbles include cream marble, blue marble, brown marble and much more.
It is a durable and strong material and with careful handling and other precautionary measures will last long. Some of the precautionary measures include sealing the table tops as soon as you purchase them, cleaning with care, and use of coasters to avoid expansion of the natural stone cause of excess heat.
A marble tabletop is perfect for a modern or contemporary interior. In comparison with other materials like granite or quartz, marble is also priced less.
A timeless piece of furniture that never goes out of style! If you are looking for a dining table with the mentioned description, then without a second thought a marble dining table is what you need!
In conclusion, ceramic dining tables can be referred to as the affordable alternative for elegant, natural marble dining tables. It is easier to use and is of low maintenance, but the elegance and beauty of a marble table cannot be easily replaced.