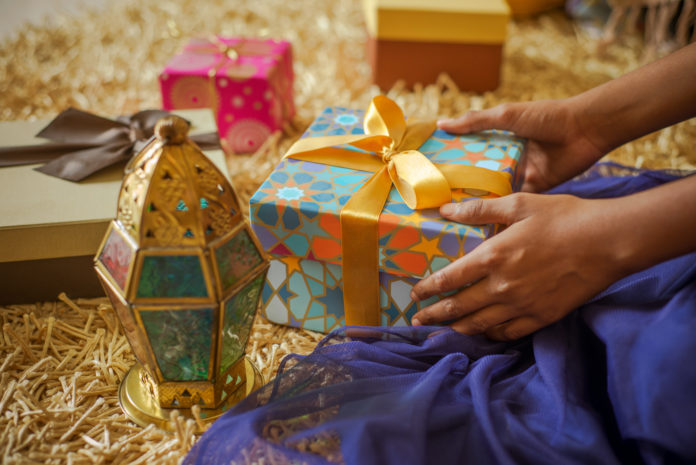 Eid is a time for giving and sharing. "Eidi" or "Eidia" is a gift given to family or friends as part of the celebration, traditionally of money. However, these days there are many who opt to gift jewelry or clothes too.
If you haven't done your Eid gift shopping yet, we've got you covered!
Here are 10 awesome unconventional gift ideas that we're sure your friends and family will love:
Wall Clocks
Wall clocks are a great and memorable gifting option. While a clock is also a must-have in any home, there are certain clocks that make a statement in terms of design and build. That's what you'll love about our Verse Oval Crystal Stone Clock .The clock features stunning Islamic design and gorgeous intricate detailing on beautiful gold making it the perfect gift for Eid.
Candle Holders
Candle holders have the ability to make or break the overall aesthetic of a space, but you can't go wrong with our Seletti Crystal Candle Holder. This stunning candle holder comprises of multiple delicate crystal drops with a gold base. This is a candle holder that looks stunning even as a décor piece whether you choose to keep a candle in it or not giving this gift recipient the choice to use it as simply a décor piece or a candle stand.
Table Lamps
Table lamps are a lighting solution that effortlessly blends in with the décor of most homes. Giving a table lamp as a gift is therefore a good option as it will be put to use without the recipient having to worry about compromising on their personal style. We recommend our Easton Ceramic Gold Table Lamp that features a stunning polished gold base with beautiful cut work design detailing and off white lamp shade that will subtly elevate the look of any room it is kept in.
Fountains
Fountains are known to have a calming effect owing to the gentle hum of the water flowing. By gifting a fountain, you'll be gifting your loved one the feeling of absolute tranquility. Our Geomantic Fountain in light brown color will sit pretty in any space in a home while imparting a soothing ambience and spreading an aura of positivity. Now who wouldn't want that for their home!
Abstracts and figurines
Abstract sculptures and figurines are phenomenal works of art that add to the aesthetic of any home. You can explore our wide range of décor items and choose one that you think your loved one will appreciate. The Liana Gold Horse is one of our bestsellers. The shiny gold color and fine detailing truly sets this piece apart.
Vases
Vases are most often chosen as gifts as it draws the perfect balance between a personal and formal gift. A vase can be gifted to your employer and at the same time, it would make a great gift for your close friend or relative too. You can't go wrong when choosing a vase but in case you're in doubt, you can check out our Decimus Hammered Tall Vase that features a simple Arabic design in a stunning shade of gold.
Tissue Box and Tray set
Gift sets are always a great choice and a beautifully designed tissue box with a matching tray is a gift set that anyone will love. This set will come in handy when serving tea and snacks to guests on the coffee table making it a highly functional and thoughtful gift set for Eid. Our Ariana Tissue Box and Tray set  is a wonderful choice as it features gorgeous Arabic branches with flower detailing that's absolutely stunning.
Photo Frames
Photo frames help add a personal touch to a home and are an absolute must-have. Photo frames can also be gifted to anyone whether you are close to them or not as they too strike the perfect balance between personal and formal just like vases. Quick tip: If you're gifting a photo frame to a close family or friend, you could make the gift more personal and memorable by adding photographs of the both of you in the frame before wrapping it up. Our pick: the Petite Photo Frame- set of 3.
Home Fragrances
Who wouldn't want a home that smells divine! This is where air purifiers, diffusers, scented candles and diffuser sticks come in. Air purifiers and diffusers make a great Eid gift for close friends or family. You can also choose diffuser/essential oil in a scent you love and gift it along with this purifier. Our Tulip Air Purifier is a great choice! Scented candles and diffuser sticks are also great formal gifts for work colleagues or acquaintances.
Globes
There's something about globes that appeals to young and old alike. It is probably the innate human spirit of adventure and travel that draws people to globes and maps. Many people add globes and framed maps to their home décor to showcase their love for travel. Our Peter Magnetic Levitating Globe is a unique Eid gift idea that's sure to appeal to whoever you choose to gift it to.
We hope this list has given you some interesting gift ideas for Eid. To explore our complete range of gifting solutions and home décor visit https://uae.danubehome.com/home-decor !