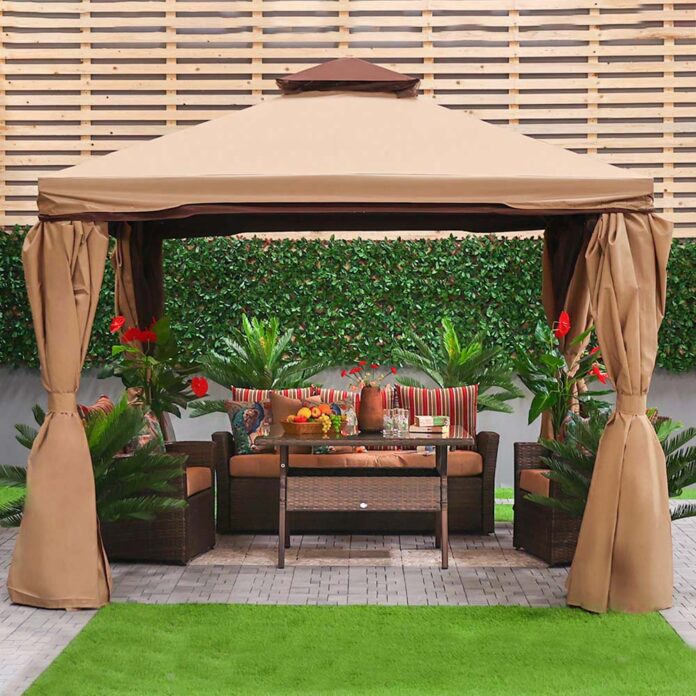 At the mention of the word "gazebo," a picturesque romantic image floods into our minds; a tiny elegant 'house' amidst a garden with blooming flowers emitting exotic fragrances, welcoming a cheerful family or newlyweds in love. It's all too poetic.
Your dream home stands incomplete; it falls short of fantasy from a fairy tale without the perfect gazebo. It is a construct fit for royalty, and you must be diligent in choosing the apt structure. It ought to complement your garden, your villa, and your general aesthetic.
Five tips to help you with your choice of gazebos
Use
Ask yourself a few essential questions before a decision. What purpose does this structure serve for me? Is it a place where I gather with my family and guests in the evening, or is it a place of solitude where I meditate or appreciate a loved one? Am I merely erecting it to beautify my garden, or is it a poolside shade? Some gazebos are small workshops or craft rooms
Depending on your answer, a location, design, dimensions, and materials are chosen.
Location
Don't place it where you could afford a gap. Something romantic isn't meant to be squeezed into a convenient patch of free space. Ruminate on your use and construct it there. If it is a dreamy little house that compliments your garden, build it in a way you can view all the vibrant flowers. If you are in the habit of meditating in the morning, then let it be eastward-facing, to greet the rising sun. It would please you to have a gazebo where a gentle breeze passes. A closed one could afford you a bit of privacy from prying eyes within your garden. If you live on a hill, place it where the view is breath-taking.
Design
These majestic structures come in different shapes. They can be square, round, or even polygonal.
Old wooden gazebos were visually pleasing but not too functional. Modern design has wed comfort and aesthetic design.
Don't buy a gazebo for the sake of buying one. Recall why you require one, select a location and then run through the design concepts with a professional from firms like Danube Home.
There are several types of gazebo: Folly, Rotunda, Victorian, Asian, Pavilion, and Modern.
Then ask yourself: Do you have enough space? How do you want it fixed? Is there a theme you are going for (there are several themes like a countryside gazebo or Asian gazebo)? Does it match your garden or your house?
Dimensions
The dimensions would depend on the location, use, and design of your gazebo. Popular square gazebo sizes are 10×10 feet and 12×16 feet. The modern square hard-topped gazebo is larger than a traditional one, which is 8 feet in diameter and tiny enough to crown a bridge over a water stream.
The modern wood-and-metal gazebos are shades that protect from the sun and rain with ample space for furniture. It usually has a central beam from where chandeliers and lamps hang, and also has perimeter beams for decorative lanterns and fairy lights.
Materials
Earlier gazebos were made with wood and stone but modern gazebos bring the same charm with cost-effective steel or aluminum. You can choose a material that reflects your personality. A wooden gazebo flatters a garden with its rustic charm and pleasing paint.
For strength and longevity, aluminum and steel are the answers. If you seek simplicity vinyl can be the ideal solution. There are perks and setbacks to all the choices we make. So speak to a professional before you make that final leap.